Being a competitive e-commerce retailer is as much about your service as it is your products. In particular, customers have come to expect speedy and reliable order fulfillment - regardless of what you are selling.
Every component of your logistics workflows - supply chain, warehousing, order processing, shipping, and last-mile delivery - needs to run smoothly to achieve those ends.
Yet, just because you have taken care in establishing a reliable, streamlined fulfillment process doesn't mean that things can't still go wrong before your merchandise reaches your customers. Unless you are a completely self-contained, end-to-end retail brand, at some point your packages get handed off to a third party. This means that even if your in-house procedures are flawless, you can't be 100% sure that everything will go as perfectly once your orders leave your possession. And, if things go wrong, customers will be blaming you - not your shipping partners.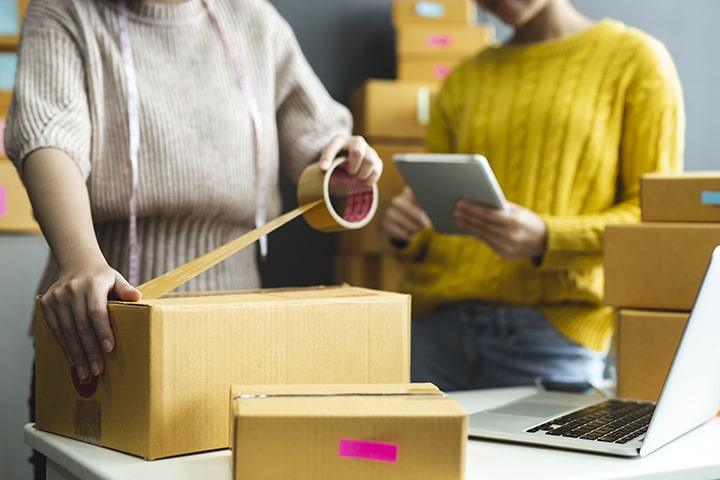 Your Need for Insurance Grows the Longer Your Products Are Out of Your Hands
Scalability suddenly becomes limited to the realm of reality. Volume surges that were previously predicted and expected to come and go have just stayed now...and so have the added fees and slower package delivery times. In addition to the slower delivery times, came more instances of loss, damage, and theft. Many carriers who were used to delivering 180 – 200 packages over their eight hour shift were being saddled with 250 – 300 packages leading to significantly longer days, and increases in instances that lead to shipping insurance claims.
These days, there are multiple tiers of logistical workflow models ranging from first-party (1PL) to fifth-party (5PL) and everything in between. As the degree increases, so does a company's reliance on outside parties to handle their products and get them safely to their awaiting customers. Likewise, so does a company's need for insurance protection against mishaps that happen while products and packages are outside of their control.
Most e-commerce brands operate using either second-party logistics (2PL) or third-party logistics (3PL) support workflows. First-party logistics (1PL) brands are pretty rare due to the fact that the model involves keeping the entire ordering and fulfillment process in-house. Everything from receiving supplies and processing orders, to packing and shipping, to delivery is handled by the brand.
In actuality, even the most self-reliant businesses typically need some outside help getting supplies in the door and deliveries to the doors of their customers. This is why the 2PL approach is much more common. It is also the fulfillment model in most need of shipping insurance protection. E-commerce businesses that operate with 2PL support rely on shipping and distribution partners to get the products and materials that they need and also to ship merchandise out to customers. Shipping insurance provides a critical safeguard against loss and damage when packages have been handed off to your fulfillment partners.
As its name implies, 3PL involves offloading your warehousing and fulfillment responsibilities to a third party. Further outsourced business models like 4PL and 5PL complicate things even more. Just like with 2PL support models, shipping insurance is absolutely a necessity in these arrangements. However, you should be aware that shipping insurance will not cover issues resulting from non-shipping-related mishaps involving your merchandise. As such, you should be sure to seek the appropriate insurance coverages to protect your products throughout their entire, end-to-end fulfillment cycle.
That said, shipping insurance, in particular, remains just as critical (if not moreso) than it is for 2PL workflows. Since 3, 4, and 5PL models outsource more and more of the logistical workload respectively, you have less and less granular control over which carriers handle your products. You need to be sure that your products and brand reputation are protected. Insurance provides that peace of mind.
Whatever Fulfillment Support Model You Use, Reducing Shipping Errors Is a Must
The best shipping insurance is the insurance that you rarely have to use. You should always do what you can on your end to reduce the number of claims that you need to process. There are a number of best practices that your business should be carrying out on an ongoing basis to keep orders flowing smoothly and your customers happy.
Audit your shipping partners regularly. Even though the shipping providers you choose operate outside of your control, they are ultimately your choice. Poor service by your fulfillment partners will reflect poorly on your brand. As such, you need to set performance standards and be prepared to pivot to alternate providers should negative performance patterns emerge. Shipping insurance will defray most of your fulfillment-based losses, but consistently disappointing customers will diminish your brand's overall reputation and even end your ability to sell on certain e-commerce marketplaces.

Evaluate your fulfillment workflow. You need to be sure that your warehouse teams are picking and packing orders accurately and carefully. This is critical to ensuring that the right products reach the right destinations and without damage. Again, shipping insurance may still offset some of these types of losses, but they can be greatly reduced or avoided with efficient and careful warehouse procedures that keep shipping errors to a minimum.

Communicate with customers. Oftentimes, you can get ahead of potential customer complaints by establishing an open line of communication. Promptly providing tracking information, responding to fulfillment inquiries, and addressing order concerns can help reduce the amount of negative feedback your brand will accrue.

Along those same lines, while every piece of negative feedback about your order fulfillment won't necessarily result in a shipping insurance claim, these types of concerns should always raise a red flag. Treat all shipping complaints seriously and look for patterns that may suggest the need for additional insurance coverage and/or a change in shipping partners.>
Even if you take all of these steps to optimize your fulfillment workflows, you cannot afford to run an e-commerce business without securing reliable shipping insurance. Even with the most meticulous attention to detail and the highest-rated shipping partners, issues will inevitably arise. It is in these times that you need to be confident you have a shipping-insurance provider that will not only investigate and pay out your claims, but one that will do so as quickly as possible. This can save you from not only sizable losses, but also from the negative feedback and loss of business that could devastate your bottom line.
Contact U-PIC directly to get a free quote for all of your shipping insurance protection needs. See for yourself how U-PIC's over 30 years of dedication to affordable and reliable shipping insurance have made them the best option for your e-commerce brand.